Cost Effective Laboratory Practices for the Detection of C. difficile Toxin
S. Whittier, N. Clynes and P. Della-Latta — Columbia-Presbyterian Medical Center, New York, NY — Presented at the 96th American Society of Microbiology Meeting, New Orleans, Louisiana
Introduction
Today's volatile health care climate has put tremendous pressure on clinical microbiology laboratories to reduce costs and streamline testing. An algorithm we focused on is optimizing testing strategies for the detection of Clostridium difficile toxin (CDT). C. difficile is the most common cause of nosocomially acquired diarrhea. Rapid diagnosis is critical for the initiation of appropriate treatment regimens. This study was designed to 1) evaluate the utility of testing multiple specimens and 2) evaluate utilization of a stool transport media (ETM™) for specimens collected at off-site locations (OSL), where transport to the lab can be delayed for up to 12 hours.
Materials and Methods
A total of 120 stools collected at OSL were tested in duplicate (one unpreserved and one preserved in transport media [ETM]) by two Toxin-A EIA systems (Meridian [M]1 and Bartel [B]2) and by a cytotoxicity assay (Bartel)3. The sensitivities of both EIAs for unpreserved stools were similar: 69% (M) and 77% (B). Delayed transport can result in degradation of toxin, thus requiring repeat testing. Sensitivities were higher for preserved stools: 85% (M) and 92% (B). Review of 477 stools demonstrated that testing multiple stools, particularly in one day, was not cost-effective. Eighty-three percent of patients testing positive for C. difficile toxin, which was diagnosed by the first stool tested. We recommend CDT testing be limited to one stool for the use of Alpha-Tec Systems® ETM transport media.
Results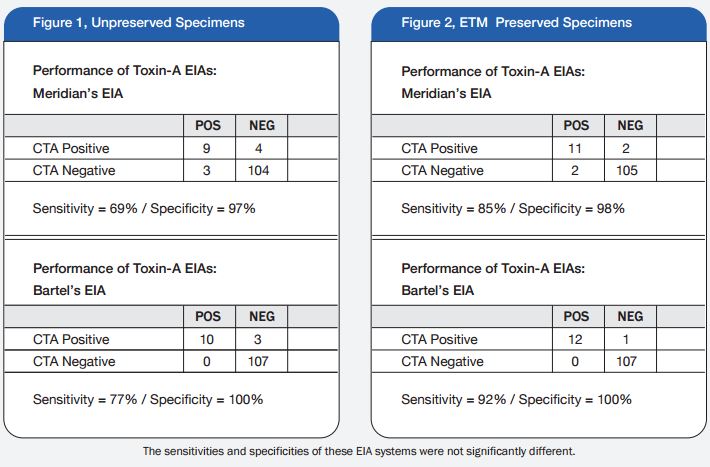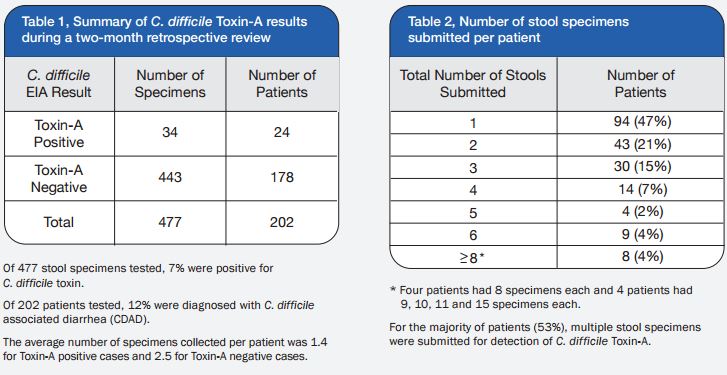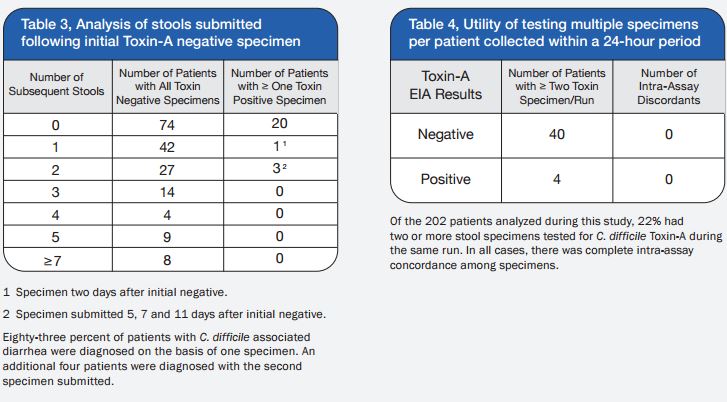 Conclusions
1. The sensitivities of the Meridian and Bartels enzyme immunoassays designed to detect C. difficile Toxin-A are adversely effected by delays in transport and extended storage at room temperature.
2. Utilization of Alpha-Tec Systems' Enteric Transport Media (ETM) resulted in enhanced detection of C. difficile Toxin-A when compared to stool specimens received via routine transport mechanisms. We recommend the use of Alpha-Tec Systems' ETM when receipt of the specimen in the laboratory is expected to be greater than two-hours after collection.
3. Although the majority of patients analyzed during this study had multiple specimens (range: 2 to 15) tested for C. difficile Toxin-A, 83% were diagnosed with CDAD with the first specimen. Therefore, we discourage the practice of testing more than two stool specimens within a 48-hour period.
4. The practice of sending multiple stools with a 24-hour period for C. difficile Toxin-A testing has become quite common, although studies validating this practice are lacking. We found no utility to testing multiple specimens from the same patient on the same day and have discontinued this practice.
1PremierTM C. difficile Toxin A 2 Bartels® Clostridium difficile Toxin A Enzymes Immunoassay 3 Bartels® Cytotoxicity Assay for Clostridium diffcile