Evaluation of Alpha-Tec® NAC-PAC™ Mycobacteria Digestion and Decontamination System on pulmonary samples


S. Naidoo and A. Barker Lancet Laboratories/Johannesburg, South Africa — Presented at the 2010 European Congress of Clinical Microbiology and Infectious Disease
Introduction and Objectives
The respiratory specimens used to diagnose tuberculosis and other mycobacteria must pass through the oropharyngeal cavity during collection which invariably results in the presence of commensal flora in the sample. If cultured in an unmodified form, this contaminating flora will rapidly mask the presence of slow growing organisms like Mycobacterium tuberculosis and must therefore be completely removed prior to analytical procedures. In order to remove this flora, patient samples undergo a pre-analytical digestion and decontamination process, which requires careful control to preserve the viability of mycobacteria while eliminating contaminants and creating a specimen suitable for diagnostic protocols. Samples collected at regional laboratories for the diagnosis of tuberculosis and other mycobacteria are often subjected only to microscopy when collected and must therefore be transported to centralized laboratories for confirmatory culture, identification, and sensitivity testing. These samples often require extensive transport which increases the time prior to specimen preparation and thus allows for significant overgrowth of contaminant bacteria. With these, the control required to effectively perform the pre-analytical process takes on more significance. Optimal recovery of mycobacteria requires a tightly regulated pH; the basic pH used to eliminate contaminant bacteria can quickly begin to kill mycobacteria after a brief exposure if it is not properly controlled. Since specimens with high levels of commensal flora growth require treatment with a more concentrated decontaminant or longer exposure to the decontaminant, these samples are especially susceptible to the loss of mycobacteria. The loss of viable mycobacteria that occurs during specimen preparation can have a significant negative impact on final diagnostic accuracy. The specimen preparation methodology employed by the majority of the world's laboratories relies on a high pH decontaminant mixed with a mucolytic agent to decontaminate and liquefy the sample followed by the addition of M/15 phosphate buffer or phosphate buffered saline (PBS) to dilute the reaction prior to sedimentation and diagnostics. This conventional procedure is offered with products like the MycoPrep™ produced by Becton Dickinson (Franklin Lakes, NJ USA). Alpha-Tec Systems, Inc. (Vancouver, WA USA) offers a reagent system that updates this procedure with reagents that provide better control over pH during this specimen preparation process, and purports to offer improved recovery of mycobacteria while reducing contamination in culture diagnostics. This comparison seeks to determine if the reagent system produced by Alpha-Tec can foster greater diagnostic accuracy while maintaining or improving reprocessing caused by overgrowth of contaminant flora.
Materials and Methods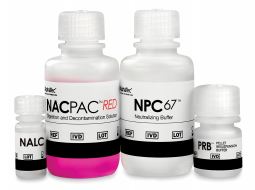 Our laboratory assessed the comparative performance of the Alpha-Tec specimen preparation system (NAC-PAC™ RED Digestion and Decontamination System, NPC-67™ Neutralizing Buffer, and PRB™ (Pellet Resuspension Buffer) in a high throughput laboratory in Johannesburg, South Africa on 100 suspected mycobacteria positive pulmonary samples. At the time of this study, the Alpha-Tec reagent system was advertised as the only commercial reagent system designed to control pH and specimen characteristics during the specimen preparation process. This pH control is designed to ensure the sample pH is below 8.1 immediately after buffering to stop the die off of any mycobacteria in the patient sample and maintained between 6.8-7.1 for culturing and diagnosis. These pH levels are designed to minimize contamination and erroneous diagnostic results while optimizing the survival of mycobacteria. Upon receipt each sample was divided into equal aliquots and an aliquot from each sample was processed using both the Alpha-Tec reagent system, and the BD MycoPrep Kit. After specimen preparation using each system, each aliquot was cultured using the BD BACTEC™ liquid culture system to confirm the presence of mycobacteria. All methods were performed according to the manufacturers' procedures.
Results
Of the 100 samples suspected positive for mycobacteria those aliquots processed using the Alpha-Tec reagent system, 98 showed growth of mycobacteria, and 2 showed contamination from commensal flora other than mycobacteria. Those aliquots of the same samples processed using the BD MycoPrep system showed mycobacteria growth in 90 samples with 7 showing contamination and 3 resulting in no growth. Of the samples positive for mycobacteria using both specimen preparation systems, those processed using the Alpha-Tec reagent system showed growth 3 to 5 days faster than those processed using the BD MycoPrep system.

TOTAL SAMPLES
MYCOBACTERIA POSITIVE
COMMENSAL CONTAMINATION
FALSE NEGATIVE
Alpha-Tec® NAC-PACTM
Reagent System
100
98
2
0
BD MycoPrepTM Reagent System
100
90
7
3
Discussion + Conclusions
Accuracy and turnaround time are important in any clinical diagnostic procedure, but when the pathogen is as dangerous and communicable as Mycobacterium tuberculosis these factors become critical. Advances have been made in nucleic acid amplification technologies which speed the time and accuracy of diagnosis, but the complexity and cost of these products often prohibit their use in low resource or high volume laboratories. Updates available in the conventional specimen preparation methodology can potentially create meaningful improvements in the accuracy efficiency and speed of conventional culture based diagnostics without increase in cost or complexity associated with new diagnostic technologies. The methodology offered by Alpha-Tec controls the specimen pH following initial buffering ensuring a pH below 8.1 which halts the pH related die-off of any organisms contained within the sample, and fosters a neutral (6.8-7.1) sample immediately prior to culture. Conversely MycoPrep or other conventional NaOH/TSCA and PBS systems, depending on sample volume and processing methodology, can leave the sample above a pH of 12 following initial buffering, and with a variable, often still very basic, pH immediately prior to culture. When compared to the results achieved using the MycoPrep kit, the pH control provided by Alpha-Tec recovered mycobacteria from samples that would have otherwise been missed, and reduced time to growth in correlated positive samples suggests overall greater recovery of mycobacteria from patient samples. The Alpha-Tec reagent system also reduced the occurrence of samples that required reprocessing due to uncontrolled contamination with oropharyngeal bacteria. These improvements were achieved without any other changes to the diagnostic process, or the need for additions or changes to the laboratory facility.
*Based upon an abstract published electronically for ECCMID 2010
BD®, MycoPrep™ and BACTEC™ are trademarks of Becton, Dickinson and Company, Franklin Lakes, NJ, USA. NAC-PAC™, NPC-67™ and PRB™ are trademarks of Alpha-Tec Systems, Inc., Vancouver, WA, USA. ©2014, Alpha-Tec Systems, Inc. All rights reserved.
CC14-301, Effective Date: 23 Oct 2014, M-PO-SAF3.B